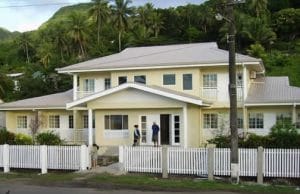 The New Mavida Lodge is located on Beach Street at the northern end of Levuka Town. The lodge is facing east overlooking Levuka Harbour, the Koro Sea, and the Lomaiviti Group Islands. If you are up early enough you may watch spectacular sunrises as the sun rises from the horizon.
The Old Mavida Lodge burned down in 2002 as a result of an electrical fault in a ceiling fan.
The New Mavida Lodge was completed in 2005 extending accommodation options in Levuka to benefit the local community by offering a choice of accommodation to international tourists, and local visitors spending time in this historical Port Town.
The New Mavida Lodge now offers 14 rooms as well a mixed Dormitory with 10 beds with separate shower facilities for men and women.
A cooked breakfast is provided together with fresh fruits, cereal, coffee or tea chilled purified drinking available for guests.
A 2-course breakfast is included in all room rates consisting of fresh local fruits, cereal, eggs, lamb sausage, toast and coffee, tea or lemongrass tea.
New Mavida Lodge Room types:
2 Deluxe Rooms: Large upstairs room with a king-size and single bed. Air Conditioned & Ceiling Fan, Hot & Cold Shower, Tea and Coffee Making Facilities.
F$165 per room/per night includes breakfast
6 Oceanview Rooms: Downstairs room with double bed, single bed optional. Air Conditioned & Ceiling Fan, Hot & Cold Shower, and Tea and Coffee Making Facilities.
F$125 per room/per night includes breakfast
3 Garden view Rooms: Downstairs room with double bed, single bed optional. Air Conditioned & Ceiling Fan, Hot & Cold Shower, and Tea and Coffee Making Facilities.
F$115 per room/per night includes breakfast
3 Cottage Rooms: Separate wooden building with Air Conditioning & Ceiling Fan, Hot & Cold Shower, and Tea and Coffee Making Facilities.
F$95 per room/per night, includes breakfast
The dormitory
8 single beds, Hot & Cold Shower Facilities
F$40 per bed/per night includes breakfast
Services
Guest Laundry
Luggage Storage
Room Service
Tour Desk/Activities Office
Contact:
For inquiries or bookings please contact:
Phone:
+679 733363
+679 8755410
New Mavida Lodge,
P.O.Box, Beachstreet,
Levuka, Fiji Islands