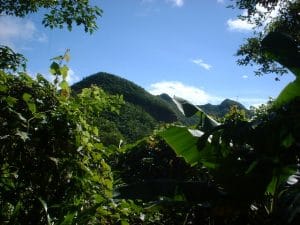 About  Ovalau Island
Ovalau is a lush volcanic island of approximately 110 square kilometers in size. The island's rugged topography is covered by tropical jungle, the highest mountain "Nadelaiovalau", has an altitude of 625 meters.
Ovalau is the sixth largest island in Fiji and the main island of the Lomaiviti Province.  On the islands are 23 villages and one town, Levuka, Fiji's former capital. Levuka is located 22 kilometers from the island's airport, Bureta.
The island's population is around 9000 of which nearly 25% reside in Levuka. The vast majority are indigenous Fiji Islanders, with part-Europeans, Chinese, Indian, Rotuman, Solomon Islanders, Gilbertese, and many others representing the balance.
Transportation
There are 4 taxi bases along Levuka's Beach street, with enough taxis always around. There are also so-called  "carriers", small pickup trucks with benches and a tarpaulin covering it.  Quite a few of them run on schedules between villages and Levuka town. The fare is very reasonable, locals use them to transport goods and to commute between their villages and town.
If you get dropped off somewhere far outside town always ask the driver about return options.
Mobile Phone & Internet
There are three mobile phone providers in Fiji, Inkk Mobile, Vodafone, and Digicel. There is good 3G or 4G coverage in Levuka town and most of the island. Get a SIM and one of their prepaid data plans to stay connected. Most hotels have WIFI or have an Internet Terminal for guest use.
The country code for Fiji is +679
Electricity:
240 volts AC/50 cycles, Australian Plug
Banking & Currency and ATM in Levuka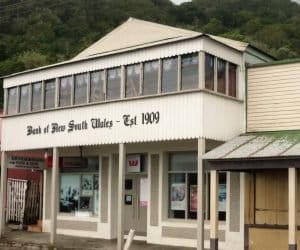 There is one Westpac Bank in Levuka offering full traveler-related services. Their hours are 9.00am to 3.00pm daily and 9.00am to 4.00pm on Friday.
The local currency is the F$ – Fijian Dollar.  Most shops in Levuka only take cash or local bank cards.
ATM
There are two ATMs in town. You can get cash there with all major credit cards like Master, Visa, Amex, Diners, as well as several international bank cards ie; Maestro, Barcley.
Further outer islands do NOT have ATMs, there is local cash only.
Medical Facilities
The Levuka Hospital ( Phone +679 3440088 ) provides medical services for outpatient and inpatient cases. There is no optician service, but dentistry is available. Serious emergency cases are transferred to Suva by helicopter, if necessary. Some pharmaceutical products are available at the hospital and from stores in town.
Bring your prescription if you need to take regular medication. Don't forget Travel Health Insurance.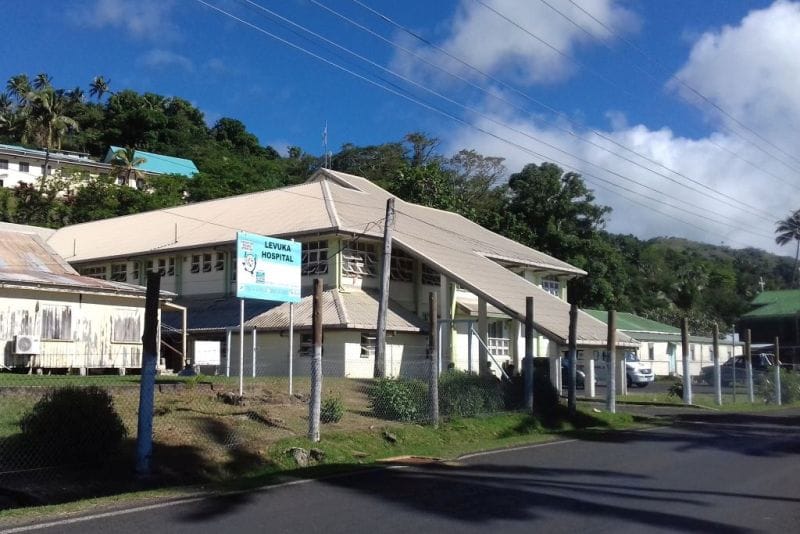 Levuka Post Office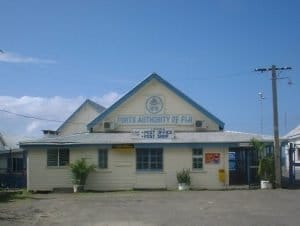 This was Fiji's first Post Office, it is still in the original building together with Port Authority and Customs department. Build in the late 1870s, the timber building's two major gabled roofs reflect the dual function of the building. It is also from this location that "pigeon post" services to Suva were operated.
Open 8.00am – 4.00pm daily. Closed Saturdays and Sundays.
Customs Clearance
Levuka is a port of entry into Fiji and clearance for yachts and boats is easily arranged during normal working hours – call ahead if entering the harbor after normal hours. Bunkering, watering facilities, and ships' supplies are available.
Immigration Entry & Visa Requirements
As Levuka is an official Port of Entry, there is a Fiji Immigration office in town. They clear arriving ship or yacht crew as well as handle any other visa and immigration issues.  Most Passport holders get on arrival 4 months tourist visa.
Shopping
In the early days, the area between the commercial business houses and the Pacific Ocean was all promenade. Later with the copra trade, a rail line was established for transferring copra from the jetties to the south end of town where the large copra sheds were located.
Today, Beach Street is the main shopping lane of Levuka. Most buildings along it are in excess of 100 years of age. Commerce is located here, with most merchants living above their shops. Enjoy browsing in the local shops such as Vallabhs, Gulabdas, and Ambalals – they offer an interesting local selection of footwear and fabrics and some handicrafts.
Schools in Levuka and on Ovalau
Most villages on Ovalau do have at least a primary school so the primary pupils do not have to travel far to get to school. There are also 3 Secondary Schools on Ovalau Island where pupils may achieve University Entrance certificates.
The Secondary Schools in Levuka are:
Delana Methodist School,  +679 3440154
Levuka Public School, +679 3440123
Secondary School in Cawaci, 10km north of Levuka
St John's College Cawaci, +679 3440187
Churches Services
Almost every village in Fiji has at least one church. Sunday is respected as a quiet day. You are welcome to join in any of the churches listed below and to enjoy the harmony of the Fijian voices singing familiar hymns.
Churches in Levuka town
CATHOLIC CHURCH: THE CHURCH OF THE SACRED HEART
Located in the center of Levuka town on Beach Street, the church represents the oldest known Catholic Mission in Fiji. Build in the 1800s, the building consists of conventional and simple Gothic Revival style architecture.
METHODIST CHURCH, LEVUKA VAKA-VITI FIJIAN METHODIST CHURCH
It is located towards the northern end of the town just before Levuka Vaka Viti village and is now considered the church of the Tui Levuka. Build in 1869, it is here that Ratu Seru Cakobau was baptized. Services are conducted in Fijian with beautiful singing.
NAVOKA METHODIST CHURCH
This quaint little church is located at the bottom of the 199 steps. Built also in the 1860s and featuring beautiful singing from the choir and congregation, the services are usually conducted in English.
ANGLICAN CHURCH: THE CHURCH OF THE HOLY REDEEMER
Also located on the north side of town, just past the hospital, Holy Redeemer was built in 1904. It is a fascinating example of Gothic architecture and features exquisite stained glass windows.
SEVENTH DAY ADVENTIST
The church is located just above Church Street, behind the park.