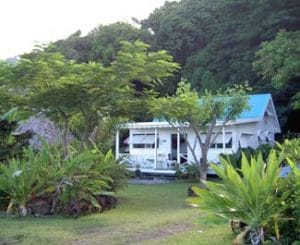 Once you´ve been in Levuka for a while, you might not want to leave. Here are some pictures of homes that people built to escape the fast hectic world to enjoy the quiet of a peaceful life in a calm unhurried environment. It may just be the lifestyle you've always wanted.
Levuka
As the only town in the Lomaiviti group of Islands,  the provincial administration is located in Levuka. Besides that, there is all important infrastructure here such as supermarkets, grocery stores, homeware stores to local market vendors selling vegetables, fruit, and fish.
Clubs, café and restaurants, churches, schools, a museum, library, local government, post office, mobile phone and internet, banks, police force, customs & immigration, dentist and hospital, daily ferry and flight services…
Ovalau Island 
Ovalau is a lush, tropical, volcanic island approximately 180 square kilometers in size. Levuka is located 22 kilometers from the island's airport, Bureta. The island's population is around 8000 of which nearly 25% reside in Levuka. The majority are indigenous Fiji Islanders, with part-Europeans, Chinese, Indian, Rotuman, Solomon Islanders, and many others representing the balance.
Weather
Levuka/Ovalau weather is a coastal tropical maritime climate with no extreme temperature fluctuations.
The summer from November till April is warm and humid with calm and sunny days often with short but heavy afternoon or night showers. The warmest and calmest time of the year is February/March with Temperatures around 30 Celsius.
Winters from May til October bring dryer southeast trade winds that can cause the evenings to be cool and windy. August usually is the coldest month temperatures can drop just under 20 Celsius on overcast days.
… more weather info on Fiji Meteorological Service