Natovi is located north of Suva, the bus ride is about 2 hours. The trip passes through Nausori Town (where Suva Airport is located) up the Rewa River valley, and through Korovou village till you reach the Ferry Landing. The bus ride is very scenic, through beautiful jungle and coastal scenery.
Natovi Landing is a ferry dock in Tailevu Province, Fiji
Natovi is frequented by regular large cargo and passenger ferries linking Fiji's main island Viti Levu to Ovalau (Buresala Landing) and Vanua Levu (Nabouwalu Landing). There are also occasional vessel departures to the other major Islands of Lomaiviti.
Natovi Jetty is also the pier for smaller boats that transfer guests to the islands of Naigani or Nukulevu Island
Getting to Levuka or Labasa or Savuvau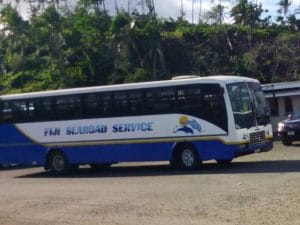 Patterson Brothers Shipping
daily bus ferry services via Natovi, Suva to Levuka (Ovalau), from Suva to Labasa (Vanua Levu), and Suva to Savusavu (Vanua Levu)
Bus for Levuka departs Suva Main bus Station at 1 PM (find Paterson Bus opposite the Suva Flea Market).
Buses for Labasa and Savusavu depart Suva Main bus Station at 4.30 AM 1 PM
The bus trip takes about 2 hours to the ferry at Natovi Landing. Crossing to Ovalau is about 1-hour sea time followed by another hour on the bus to Levuka Town.
The Crossing to Nabouwalu takes about 2.5 hours. From here the buses to either Labasa or Savusavu take about 4 hours.
Booking and ticket office for the ferry to Ovalau at Patterson Bros., Epsworth House, Nina Street, Suva,
Ph. : 331 5644 or e-mail: fijisearoad1@gmail.com
Venu Shipping Limited
Bus/Ferry service 3 days a week from Suva to Levuka. Vessels depart from Natovi Landing and Narain's Wharf, Walu Bay, Suva. Routes include Levuka, Kadavu and Savusavu.
Suva Office Tel: (679) 3395000
Blighwater Shipping Company
Daily from Natovi to Savusavu
Suva Office: Shop #10 South Mall City, Suva
Tel: +679 330 1338
Goundar Shipping
Departs from Walu Bay, Suva to Savusavu, Taveuni, Kadavu, Koro, Northern Lau, Rotuma.
Two daily return trips between Natovi to Levuka wharf.
Goundar Shipping, Walubay, Suva
Phone: 3301020 and 3301021